Working from home as a self-employed travel agent can be hugely rewarding and financially lucrative. Having the right space to work and run your travel business from can make a real difference to productivity, so you need to consider some essential items alongside your personal taste in décor.
Here are our favourite tips for home office inspiration for a travel homeworking business:
Private space
The home office does not need to be a separate room, although it helps. It is essential that you have a private space to work without interruptions.  It could be a corner of a room, a hallway or landing, under the stairs, even a garden room.
Your private space should be for work only as it is so important to create a mindset of going to work. At the end of the working day, you should feel that you are leaving work, for your family time in the rest of the home.
Your own styling
Once you have found your private space, not the exciting bit: making the space as unique as you are. Add some personal items to your home office space too. From family photos to wall art, plants to sculptures, cool scandi to cosy country cottage styling, your workspace should reflect your personality.
Branding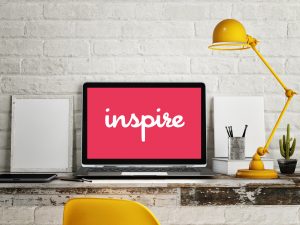 A reminder that you are not alone in your homeworker endeavours, Inspire Travel branding will act as a reminder of the support you get from the team at head office to help your travel business flourish. Think about some wall branding, laptop or phone skins or screensavers.
A map of the world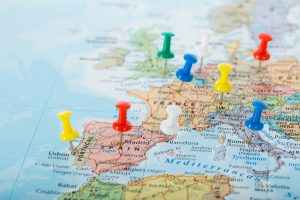 As well as being a ready reference to where your clients are travelling to, why not use the map as a motivational tool. Pin everywhere your clients travel to, to build up a story of how your travel business is growing.
A comfortable desk and chair
Now for the practical tips. You will spend a long time sitting at your desk and chair. Make sure you sit comfortably, without slouching, with your screen tilted upwards. How your desk and chair look is up to you.
Lighting
Natural light helps not just with comfort in front of the screen, but also a motivator to think of the sunshine your customers will meet on the travels you have organised for them. Ensure that your desk also has a good quality light, to help on those less sunny days and short Winter days.
Storage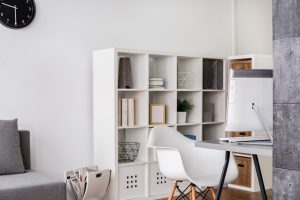 You will need somewhere to store essential documents, so a selection of drawers, stationery holders, shelves for box files and a lockable cabinet should be on your shopping list.
Wifi signal
Essential to getting online and responding to your customers in a timely manner, as well as offering teleconference and videoconference communication opportunities with your customers.
Power sockets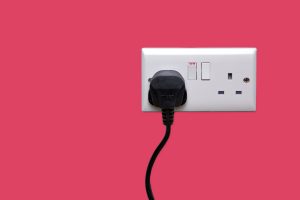 Often overlooked, easy access to power sockets is essential, You will need at least two for your laptop and phone chargers, more if you have extra screens or speakers. Trailing power cables from the other side of the room is not only unsightly, it is a health and safety hazard.
Have we given you some home office inspiration? Are you are ready to set up as travel homeworker?  Ivrie Cohen is always happy to chat about homeworking with Inspire on 0161 465 6069. Alternatively you can e-mail him, or get in touch.